Networking
Networking is an elementary step in both global movements and community based initiatives. A strong network of skilled and focused individuals is the most fundamental instrument in any large project. It is people who will make a difference. By networking we together will create an organization that is larger and more effective than any other has ever been throughout history. We are setting out to accomplish what has never been done before. We are building the union of all unions and the community of all communities!

Unity for a Change is a philosophy for organizing communities, organizations, businesses, unions, and social affinity groups internationally into one collective effort and to establish a process for citizens around the globe to combine the powers of knowledge, skills, and resources for mutual benefits.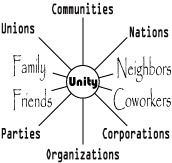 HERE'S HOW WE CAN DO IT!!!

1. GET INVOLVED!


JOIN :::UNITY FOR A CHANGE:::

Join :::UNITY FOR A CHANGE::: on Myspace

Join :::UNITY FOR A CHANGE::: on Facebook

Join :::UNITY FOR A CHANGE::: on Ning

2. Get your family and friends involved.

3. Go door to door in your community and start talking to your neighbors.

4. Invite your family, friends, and neighbors to convene for a local meeting.

5. Gather a group of 5-10 people to deploy around different parts of the community.

6. Reach out to local organizations, unions, businesses, religious groups, and political parties.